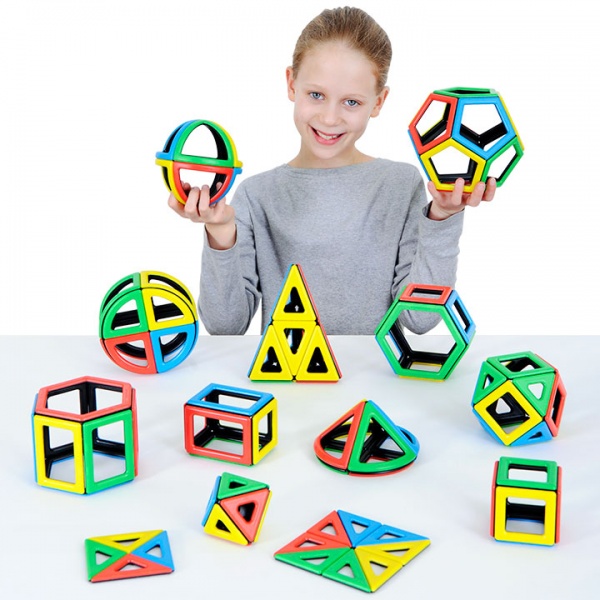 The world of magnetic construction is filled with products that build from 2 dimensional to 3 dimensional models quickly and easily and provide many hours of fun and creativity, so why choose Magnetic Polydron over any of the other items on the market place?
The answer to that question cannot be answered in one single sentence: It is worth remembering that Magnetic Polydron is the only magnetic geometric shapes system designed for education. All the others were designed as toys and are then sold into education as well. The truth is there are many reasons which I will try to list below.
Quality. We want quality products for our children that will last for a very long time. Magnetic Polydron is backed up by the Polydron name which is the number one construction product in the education industry, recognised and renowned worldwide for its quality and innovation. The biggest difference beyond doubt is that the strength of the magnet is perfect for keeping the shape together whilst you build it. It will stay in place once built and can withstand a certain amount of friction before coming apart. Also, it is not too strong that you cannot pull it apart. It makes building really fun and easy, and the children can concentrate on the Maths concepts and the structures being built rather than being frustrated at it all falling down.
Unique. Magnetic Polydron is unique in its design. Each square has 8 magnets, 2 in each side, each triangle 6 magnets, 2 in each side. This gives the product a completely different function to that of its competitors, if it is not matched correctly, then the join is irregular and the magnets will repel at the opposite poles. The advantage of this function is that the children who use this product will begin to learn and understand the function of polarity. Simple but important observations are made through this innovation. Children playing together and learning together is an important lesson for life.
Experiments. The attraction of magnetics working in conjunction with each other allows us to create fun experiments that are easy to carry out. There are a number of different ideas to pursue and once children have been set upon this path, they can begin to explore any number of avenues that can only be done using Magnetic Polydron. See the chaos demonstrator video below.
Education. Magnetic Polydron will help children to learn about many things whilst they build and play. Problem solving, colour recognition, interactive play, creativity and hand eye coordination are just a few of the ways that play and learning are fostered by Magnetic Polydron. It is a well-documented scientific fact that children learn faster in their early years than they ever will again. It's a time in their development when they don't need static experiences; they need possibilities and open ended activities that will allow them to grow and develop to their full potential.