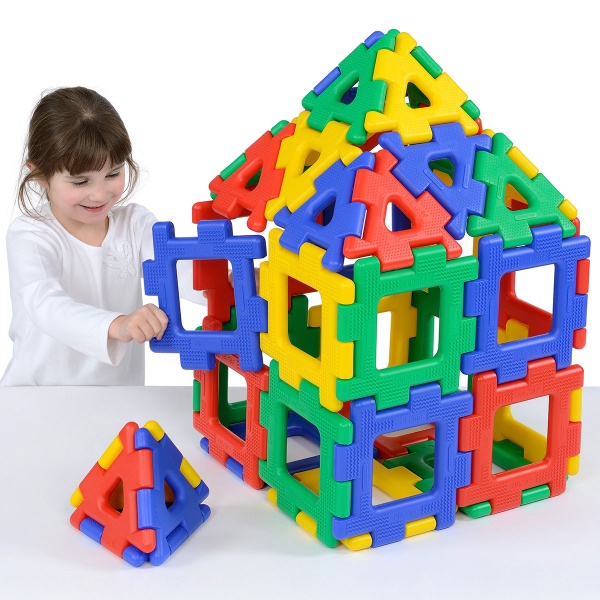 Giant Polydron exists in a very competitive field within the early years education field, and of course there are many good and worthy competitors out there. So why would you choose this product as opposed to some of the others?
The first reason is the name Polydron. Polydron has been in the business of making construction products for many years. By 2015 we have completed our 35th year making superior original and innovative construction products, used in schools all over the world that can be relied upon to provide teachers and pupils with outstanding products to help children in so many areas. Spatial awareness; developing motor skills and logical reasoning creativity; shape recognition; problem solving; team work, and strengthening of manipulative skills to name just a few. One of the main stand out differences for Polydron to that of its competitors is that Polydron is the only company that uses the unique registered design of the pip and socket connection to join pieces together which gives the product its easy to assemble nature and its innate stability when formed into structures. Polydron provides quality products that can be trusted and relied upon to provide value for money to schools wherever it is used.
Safety. Safety is Polydron's number one consideration in every construction product we make. There is nothing that can be substituted for the peace of mind of knowing that your children are safe when working with Polydron products. In 35 years of creating construction products, we have an exemplary safety record, that is second to none. You can take that confidence into every classroom when you use our products.
Only Giant Polydron and XL Polydron have the unique textured feel that will help children to differentiate between different shapes and to recognise their relevance in constructing different forms. Every shape also encompasses the name of the shape in Braille on each piece that reminds children of the fact that there are other ways to communicate, and in a world of inclusive education this is essential.
There is a unique connection between Giant Polydron and XL Polydron, which means that both types of the product can work together. XL Polydron is exactly four times bigger than Giant Polydron. Giant will connect to XL and vice versa, or they can be equally effective working independently. This means that children can see connections between big and bigger, it also means that if a teacher doesn't have enough space inside the class room, then Giant Polydron is perfect and compact for their needs, whilst the XL is great for outdoor spaces and when the weather is kind, then both sets can be taken outdoors to work in harmony with each other. This connection will then lead the children on to an understanding of basic geometry which is essential in the pathway to understanding mathematics, with Polydron's recognition and affinity with geometry.
XL Polydron and Giant Polydron are simple and easy to use. Once the child has learned to put two pieces together, and this may challenge some younger children for a time, then they have unlocked the secret of the product and the only thing that will hold them back is their creativity. They can build all kinds of structures, houses and cars are just the start as the creativity bug takes over!