The Education Industry & Climate Action
23 November 2021 | Paul Harwood
The COP26 summit has further amplified the UK's commitments to become a world leader in sustainability right across the education system by engaging young people and bringing them on our journey toward net zero and a green future.
Nadhim Zahawi, Secretary of Education (DfE)
As I am writing these words, the COP26 Summit on Climate Change in Glasgow has drawn to a close. This summit has become an important benchmark for the ongoing and ever prevalent fight against climate degradation.
Whilst I could rattle on about the various pledges and promises being made by our World Leaders in the aim of curtailing the devasting impacts of climate degradation, such as promises to reduce deforestation and the global effort to achieve Net-Zero by 2050 - it's the pledge made by our very own Secretary of Education which brings me to my keyboard.
Education Secretary, Nadhim Zahawi, has promised to put climate change at the heart of the Department for Education, acknowledging the urgency of this situation and the importance of getting children actively engaged and involved in the conversation on the fight for their futures.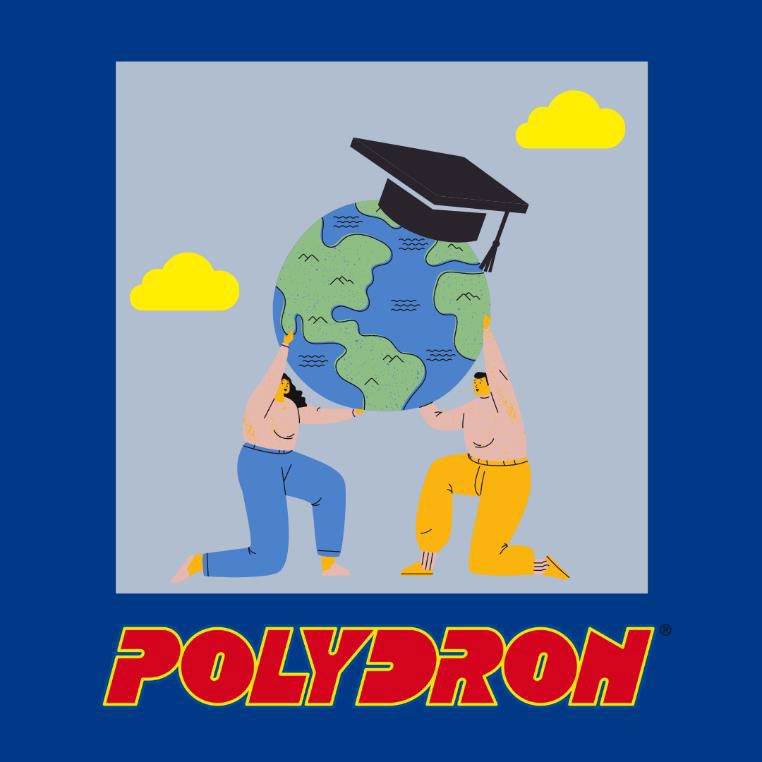 Putting Climate at the Centre of the Curriculum
One of the measures announced during his speech at the COP26 Summit, and perhaps most relevant to you sat reading this article, includes a new curriculum centred around educating and engaging children on the issue of climate change and is set to be implemented by the end 2023. This will be implemented across all educational settings, bringing the climate dialogue outside of that of secondary and higher educational settings to primary and nurseries.
Zahawi has highlighted that key to this change in curriculum will be engagement. Children across all educational settings will be encouraged to increase their interactions with the outside world through biodiversity-enhancing actions such as installing bird feeders or creating insect habitat homes. They will also be encouraged to log their school's progress online, which will go on to create a digital map of all their ecological progress which can be compared with other schools across the country.
As part of his promises, Zahawi has put in place a new Duke of Edinburgh style scheme with the aim of not only encouraging young people to participate and be celebrated for their environmental actions, but also to put the subject of climate change at the heart of education.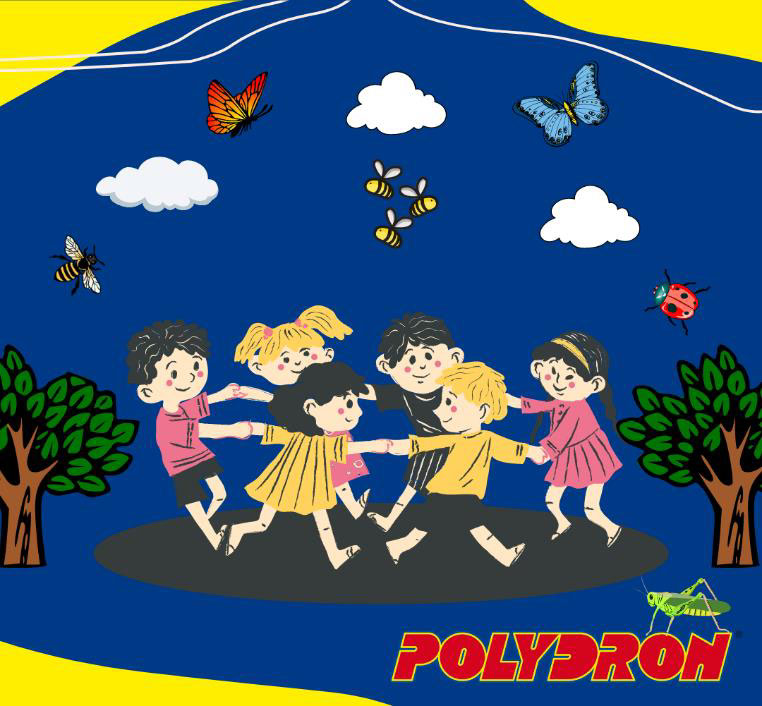 Children and students who are given the opportunity to participate in The Climate Leader Award will be able to develop their knowledge and skills concerning biodiversity and sustainability. They will also be actively encouraged and rewarded for their environmental achievements in their local area through this scheme.
Further to these additions to the curriculum is the commitment made by the DfE to place sustainability and innovation at the forefront of the Education System, in line with the pledges made by central government on issues such as Net-Zero, protecting the 'cathedrals of nature' by slashing deforestation rates, and protecting global biodiversity.
This will undoubtedly impact the day-to-day running of educational settings and schools with envisioned curriculum changes alongside additional teacher training – but it also means that resource providers will need to start adapting to the demands being made by their sector in order to help schools live up to these greener standards.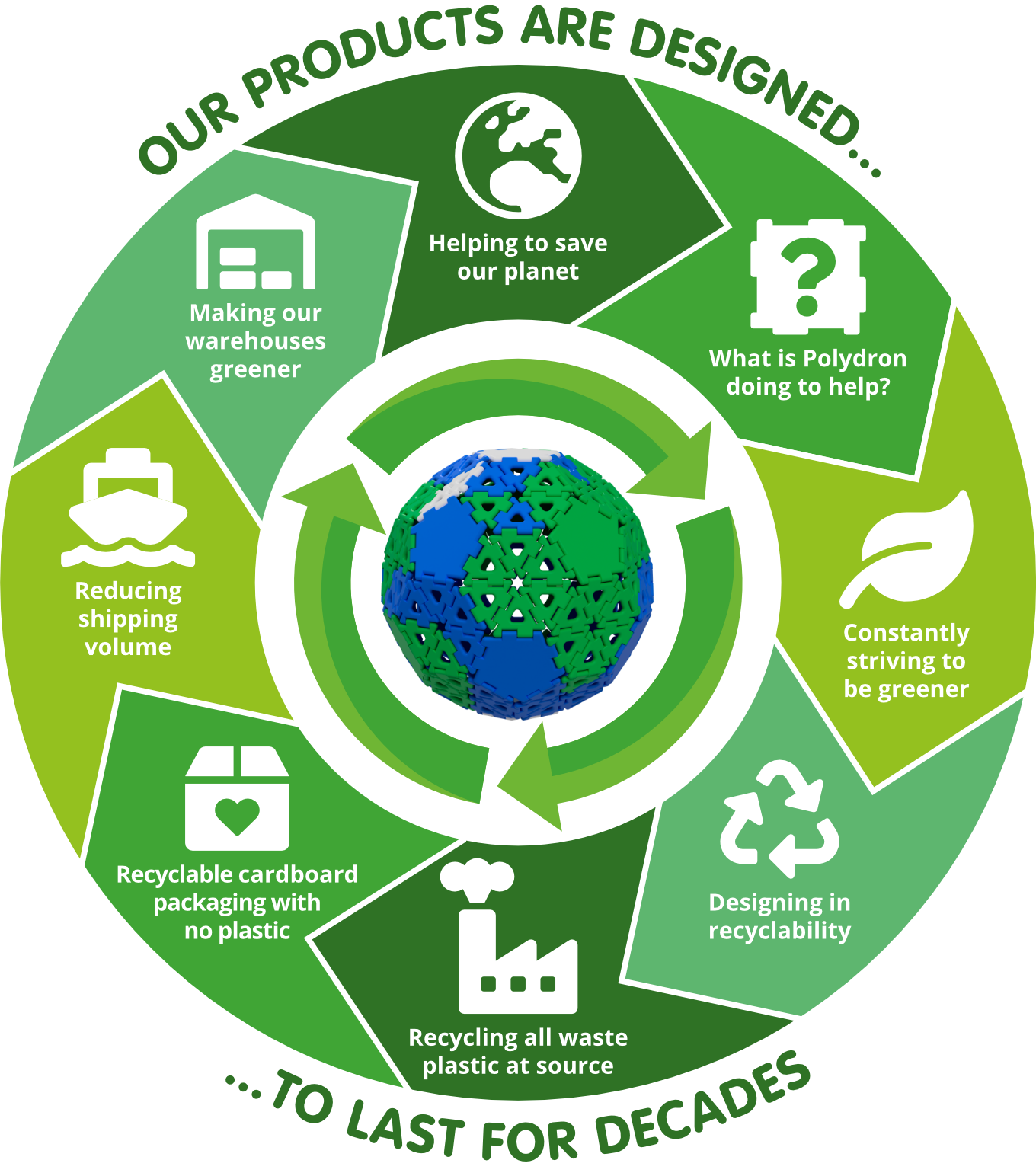 This infographic shows how we are constantly striving to improve our environmental impact.
How can Polydron Help?
As an educational toy company and therefore situated within the education industry, we understand how important a role we play in ensuring that these pledges are materialised into tangible actions. We understand how our changes towards greener actions can directly impact and benefit the fragile status of our planet, but we are also aware of how our actions will also impact the ability of schools and educational settings to live up to their own green commitments.
As such, here at Polydron, we are constantly innovating our product designs so that they are not only more exciting with each new release, but also greener in their production.
Sustainability and greener means of production are at the heart of our company ethos, and can be seen clearly though our Eco-Initiative.
This initiative has already produced tangible changes present in our current production methods. For example, we have gone through the process of removing all single-use plastic from our Polydron Ranges, switching to sturdy cartons which can be recycled. The table below details our progress across our Polydron ranges so far.
| Product Range | Packaging Replaced |
| --- | --- |
| Magnetic Polydron | 86% |
| Giant Polydron | 100% |
| XL Polydron | 100% |
| Giant Octoplay | 100% |
| MegaMag | 100% |
| My First Polydron | 100% |
We have also reduced the size of our packaging, meaning that the boxes and cartons our products come in are much more compact as we are no longer shipping air. This means that from the source all the way through the chain to our customer, the packaging is kept small therefore requiring less energy to pick up, pack and ship.
Our toys are built to last a lifetime, however when they do come to the end of their life, they are really easy to recycle. This is because all of our products are designed with recyclability at mind and as such, most of our products are designed with non-composite materials which means that they can be recycled really easily at a mainstream recycling centre.
Buying our Polydron products not only means that you are putting eco-friendlier means of production at the heart of children's education, but it is also a great way to set future generations up with engrained, green day-to-day actions.
Reducing single-use plastic in the school environment is a really great way to help steer the educational sector towards a greener future by reducing waste that ends its short life by polluting our oceans. This cutting down of single-use plastic is also really beneficial in reducing carbon emissions by streamlining energy output in the shipping process, helping to contribute with the global move towards Net-Zero.
Our Final Thoughts
Our planet is dependent on a mass movement towards greener and more sustainable means of living. And where better to start than in the education industry – especially with the resources that our children will play and work with every single day? Is it not this very industry which nurtures and builds the future generations who will have to deal with the consequences of our actions, but who will also ultimately be the ones to innovate new brilliant ideas to get us out of them?
Close ups of the Eco Magnetic Polydron Class Set – made with 30% Wheat Straw, an eco-alternative to traditional plastic.
And whilst we aren't claiming that Polydron will solve the climate crisis, we can tell you that we care a lot about children's futures and are constantly thinking of new ways to make our products and production methods more sustainable (see our Eco Range made with 30% wheat straw). In addition to this, we also endeavour to develop new toys which will build the foundations for those much-needed lightbulb moments in the future, through play.
Sources: