Spooktacular Halloween Fun with Polydron: 5 Creative Activities for Kids
27 October 2023 | Laura Manning
The spookiest time of the year is just around the corner! Halloween is the perfect occasion for kids to indulge in some creepy, creative, and educational fun. And what better way to do that than with Polydron; the versatile and engaging construction resource that sparks imagination and encourages learning! Explore these 5 fantastic Halloween-themed activities using Polydron that will leave your little ones thrilled and educated.
1. Building Haunted Houses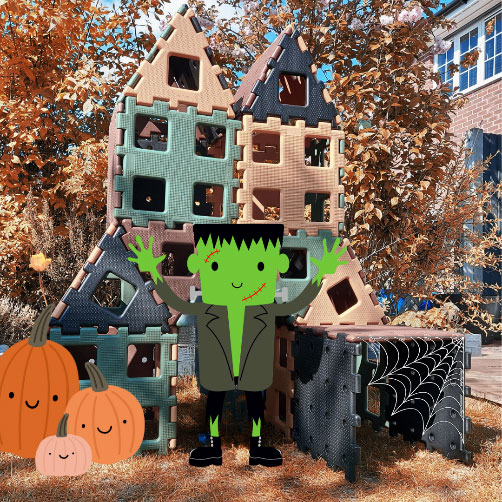 Our easy-to-connect XL Polydron pieces can be used to construct large eerie haunted houses, towers or castles! Provide your kids with a set of Natural XL Polydron triangles and squares; and watch the excitement unfold as they build their spooky dwellings. Encourage them to add details like ghosts, bats, and witches, using stickers and toys. This activity not only enhances their creativity, but also improves their team work skills as they join together to turn their ideas into a reality!
2. Constructing Creepy Creatures
Let your children's imagination run wild as they create creepy Halloween creatures with Polydron. From spiders to skeletons, Polydron pieces can be assembled to build these spooky friends. Containing over 400 pieces, the Polydron Primary Maths Set is the perfect resource for building endless Halloween inspired creations! Why not add googly eyes, pipe cleaners, and paper cutouts to bring these creatures to life. It's a fantastic way to boost their fine motor skills and encourage imaginative play.
3. Spooky Symmetry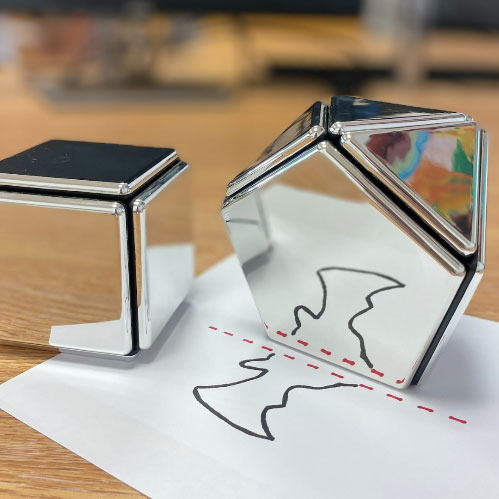 Polydron is an excellent tool for teaching symmetry! Draw half of a spooky image on a piece of paper, and ask your child to recreate the other half using pieces of Original Polydron. This activity not only promotes creativity but also helps children understand the concept of symmetry; which is fundamental in geometry! You can also use Mirrored Magnetic Polydron to explore the world of symmetry. Again, draw half of a spooky image on a piece of paper, and ask your child to finish the drawing using the reflection of the mirrored pieces!
4. Spider Web Weaving
Create a spiderís web that doubles as a weaving project with Polydron Frameworks! Construct the web by using framework shapes, and provide long pieces of string for the children to weave in and out; creating a spider-like pattern. To finish off your spooky atmosphere, you could also add small toy spiders or Halloween inspired creepy crawlies. This hands-on activity promotes fine motor skills and creativity, all while embracing the Halloween festivities.
5. Pumpkin Carving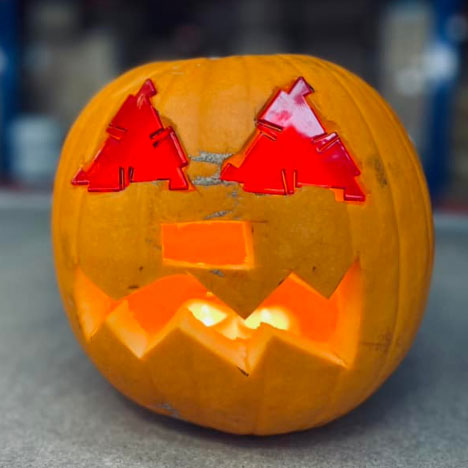 We all know carving pumpkins is a cherished Halloween tradition, and Polydron offers a fun alternative! Kids are able to design their pumpkins with a variety of different facial expressions, exploring symmetry and artistry in the process. Use Crystal Polydron pieces for the cut-out sections of your pumpkin allowing for lots of light to shine through! These Polydron pumpkins can be displayed as spooky decorations or used in storytelling activities.
Summing Up
Using Polydron to inspire your Halloween festivities is a fantastic way to combine both fun and education. These activities will not only keep your children entertained, but also stimulate their creativity, problem-solving abilities, and spatial awareness. So, why not embrace the spookiness and dive into the world of Polydron this spooky season! Browse our site to explore the wide range of Polydron products and get started on your Halloween-themed adventures!