British Science Week at Kemble School
8 April 2022 | Paul Harwood
We made a very special trip out to Kemble Primary School to celebrate British Science Week and we had such a fantastic day learning from the children!
This year's theme for Science Week is growth, and we thought would honour the theme by encouraging children to grow and expand on their own individual realm of possibility, through developing their creativity and subsequently developing their self-confidence. We did this by asking the children across all the age groups to design and create their very own climate change busting contraption with our Polydron sets, in line with the issues and solutions they had come up with themselves during the assembly.
We really wanted them to grow into their potential, and understand that the sky is the limit when it came to the solutions and the inventions that they could innovatively create.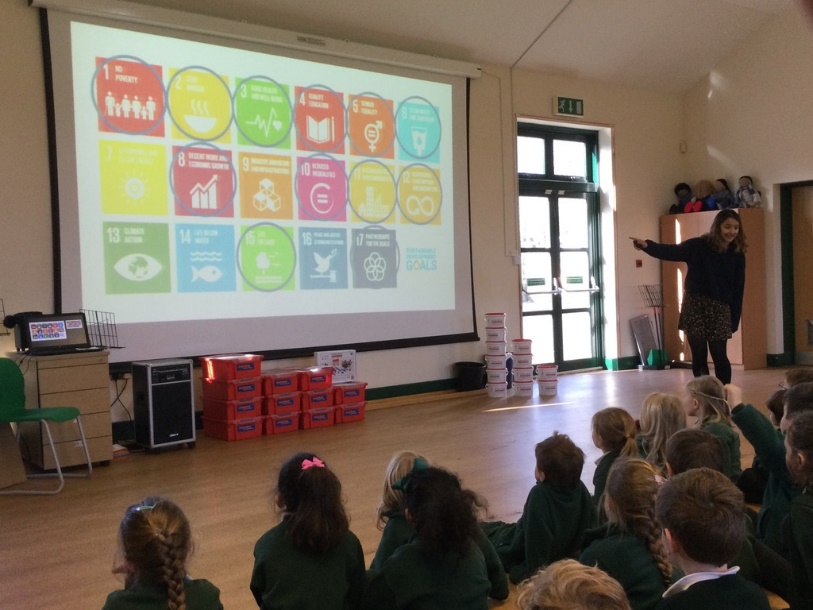 Assembly time! A snapshot into our interactive assembly on all things sustainable development goals, fair trade and how to save the planet!
Assembly Time!
We kicked off the day with an assembly, where we discussed all things sustainability, fair trade and climate. The children were so engaged and so excited to talk about such important topics, answering all of the questions attentively and adding a lot of their own knowledge about these massive topics. I was surprised in the best possible way to hear just how much they knew about greenhouse gases and the ozone at the age of 11 years old – they certainly knew far more than I did!
When we introduced the challenge to them, you could feel the excitement vibrating amongst them all as they began to think and discuss some of the ideas that they had already come up with in the minutes following the announcement of the challenge.
We started off in the lower years, handing them over their buckets of tailor made Magnetic Polydron pieces, complimented with elements of our Magnetic Polydron Play Set and Magnetic Polydron Wheels. They were separated off into their groups of 5 and started to identify the different parts of climate change that they had learnt about in their previous topic of Saving the Planet. Here are some of the creations that the Year 1 and 2 classes came up with when we visited!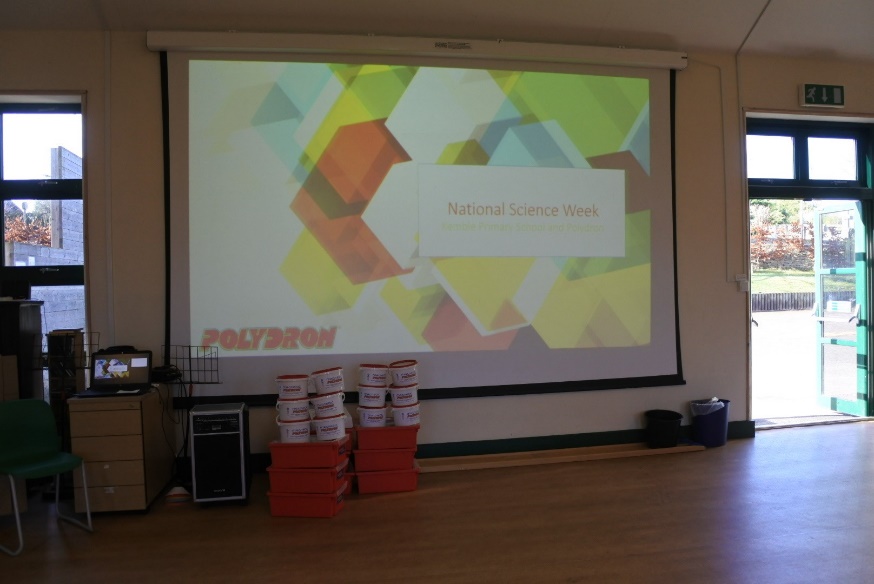 Ice Machine
The children had identified 3 main issues that they wanted to tackle, with the issues being: littering, deforestation and the warming of the planet.
One of the groups had decided to create an ice machine that worked in a similar vein to a coffee machine that we find at home. Their design was powered by solar panels, and would hover over the ice caps and drip out cold, fresh ice which would help to recreate and rebuild the ice that had melted as a result of climate change. They were really passionate about reversing the damage made from climate change, whilst also ensuring that polar bears would be given a safe environment to live in.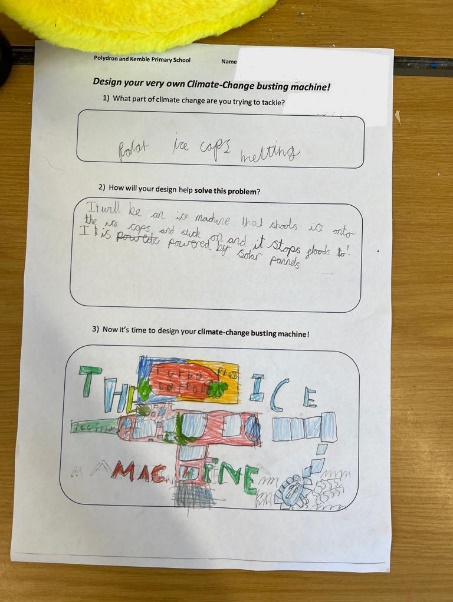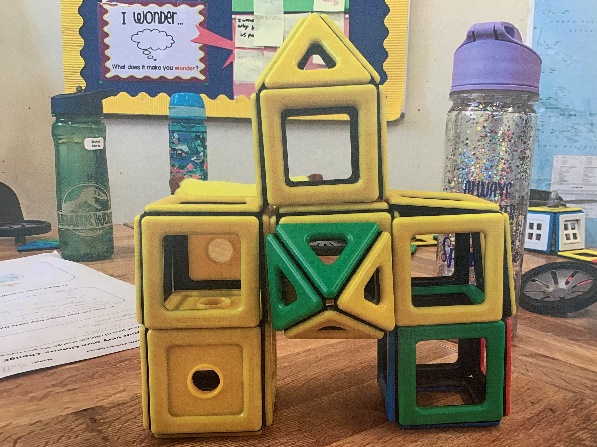 The Push Push Push Push
Another group decided to tackle greenhouse gas emissions, designing a prototype of their "Push Push Push Push" invention. This contraption would transform into a helicopter which would suck up all of the nasty greenhouse gases that were causing the ozone to thin; the engine within the helicopter would clean the air by transforming the greenhouse gases into energy and then let off clean air into the atmosphere. This energy that was created through the conversion would help power a mechanism within the Push Push Push Push which would cool the air, subsequently helping to keep ice caps cool and ensuring that polar bears would not get too tired as they swam for new land. Pretty inventive, right?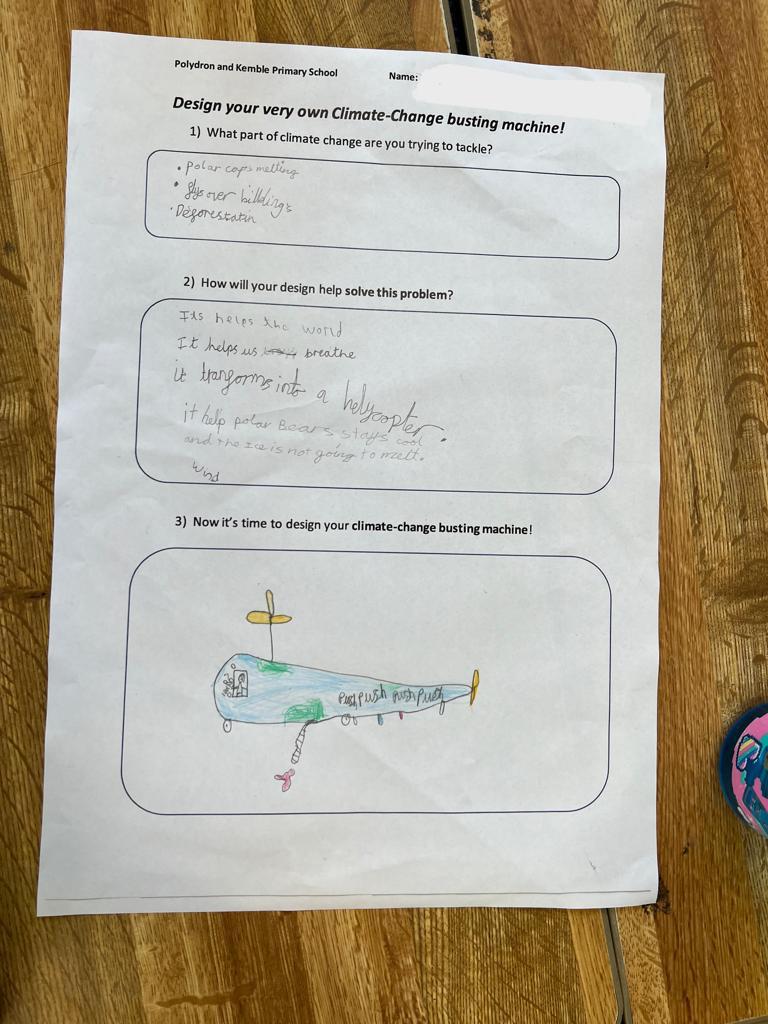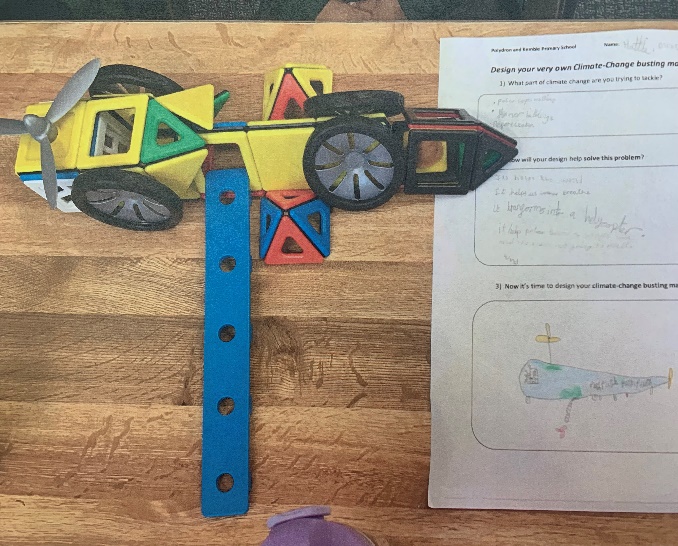 The Giant Mushroom
Another group created a giant mushroom shaped shield which would protect the earth from UV rays. They also designed a miniature version for homes and towns, creating a mini-ecosystem for humans where the world could heal itself. Their aim for the giant mushroom was to slow down climate change whilst also giving the ozone a chance to heal itself, by protecting the earth from the sun. They even made a miniature prototype with the Magnetic Polydron, which we were so impressed with!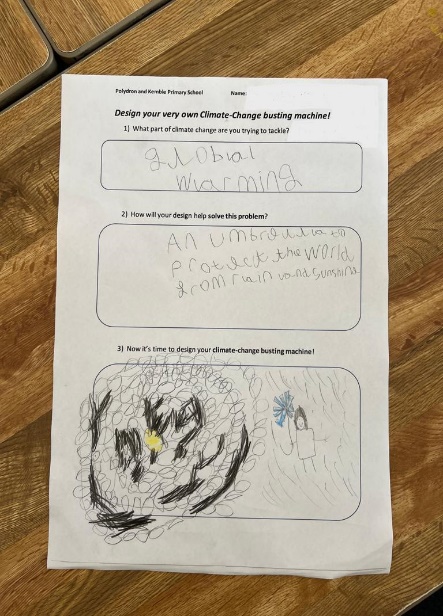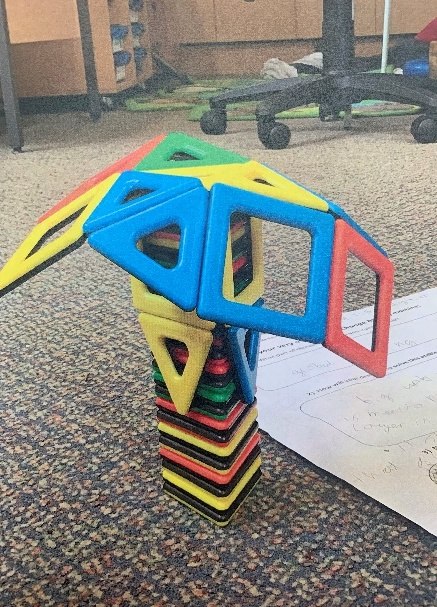 Sea Hoover
One group decided to tackle littering, but specifically focused on the issue of plastic pollution in the ocean. This group designed a sea hoover which was powered from a waterproof battery, which took its energy from a water turbine which was powered by the currents in the sea. The hoover would suck up plastic and create a renewable energy which could be used for an eco-friendly vehicle that they would design on another day – the sky was truly the limit for this team!
They even spoke in depth about how they could ensure that no fish were sucked up into the hoover as it made its way across the ocean floor, opting for a two-chamber mechanism. The first chamber would detect a heartbeat in the object that was being collected; if it did show signs of life, it would be ejected and if it did not it would move into the second chamber where it would be recycled into something new. How ingenious is that!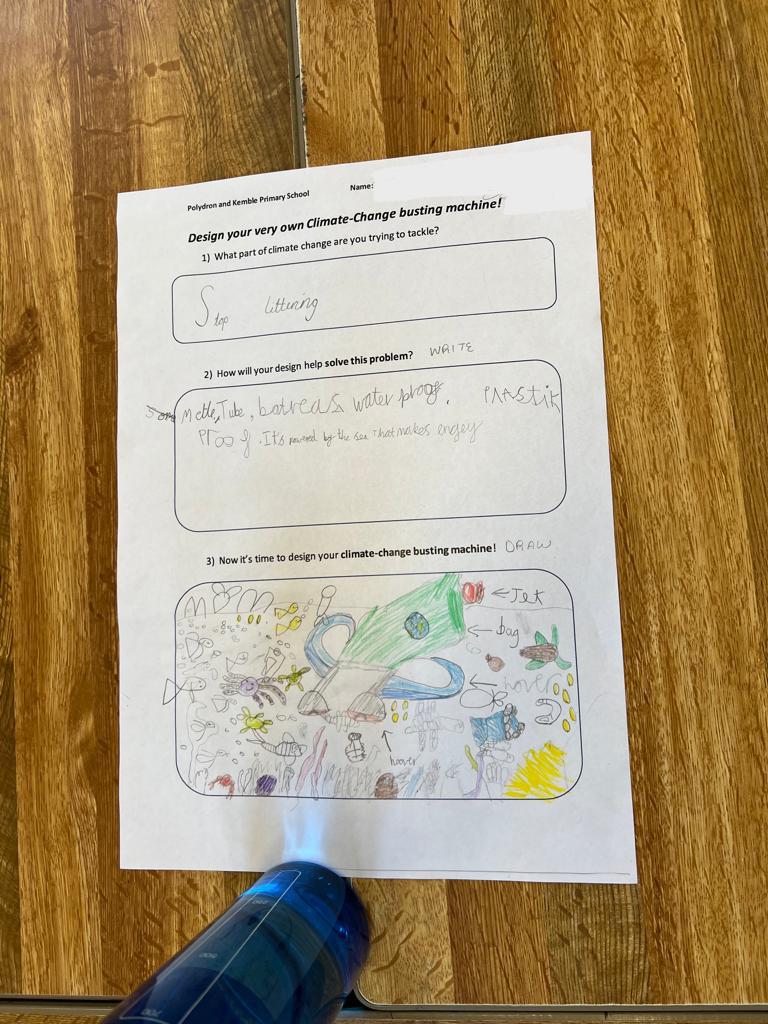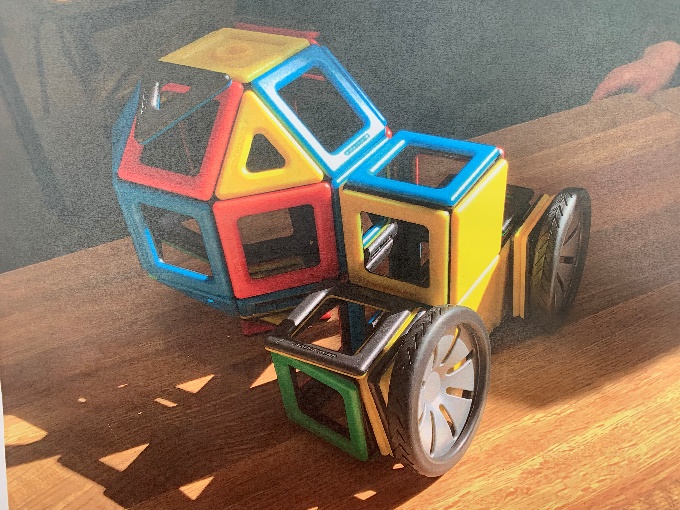 Tree Armour
And finally, the last group decided that they wanted to help prevent further deforestation. We had a discussion about the reasons why the forest was being cut down and methods to which we could prevent or slow this down. I was very surprised when they told me that we were being too slow with our rate of planting new trees, and therefore decided that the best way forward would be to create shields and armour that would be activated when people came too close with axes, without permission.
They wanted to build the armour out of diamond, due to their knowledge of diamonds being the strongest material on Earth. They also envisaged a mechanism which would drop the tree into the ground if the armour failed, which I thought was such a creative and innovative idea which was truly thought out.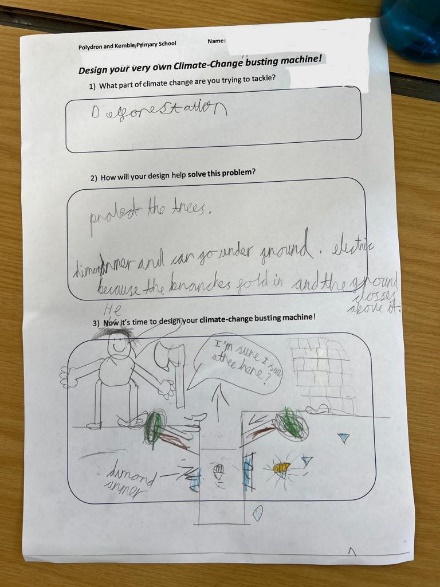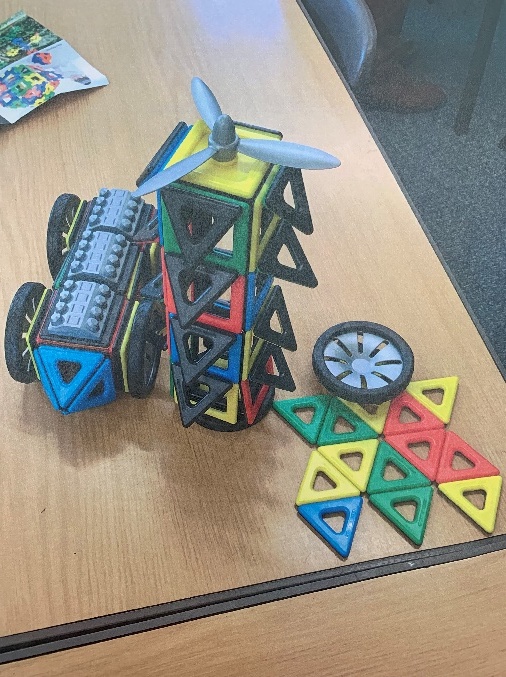 Final Thoughts
The children truly embodied what it means to be an engineer and inventor, using their imagination to create new solutions and ways in which to tackle the issues that they care so deeply about. These children are our future and here at Polydron, we believe that we should nourish and help these children grow into the life-changing adults that we know they will become.
Coming into Kemble was so much fun, and we can't wait to share more of creations that the upper years designed and made during our time there! We hope that you have enjoyed reading about our adventures with the engineers and pioneers of the future.