5 EYFS Backed Ways for using KinderMag with your little ones
28 April 2022 | Emily Hanson
Construction play is a popular choice in Early Years settings. Covering a real variety of early years goals, it's no wonder that blocks, bricks, and stickle bricks are common features of continuous provision - and the same goes for homes! Sometimes, though, the classics need a little reinvention. Enter: KinderMag! We're excited to share our brand-new product, designed especially to suit ages 12 months plus, so little ones needn't miss out. To help you get started we're sharing 5 brilliant, EYFS focused ways to use KinderMag with your little learners.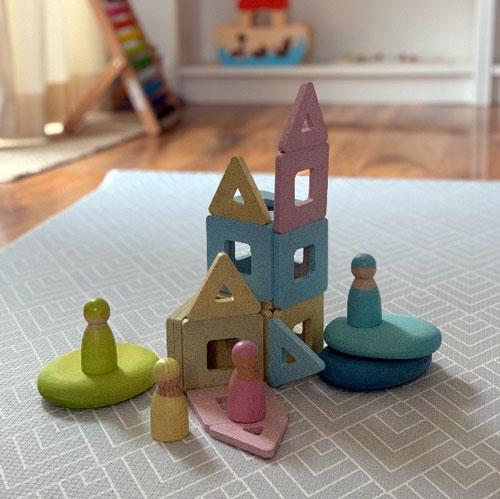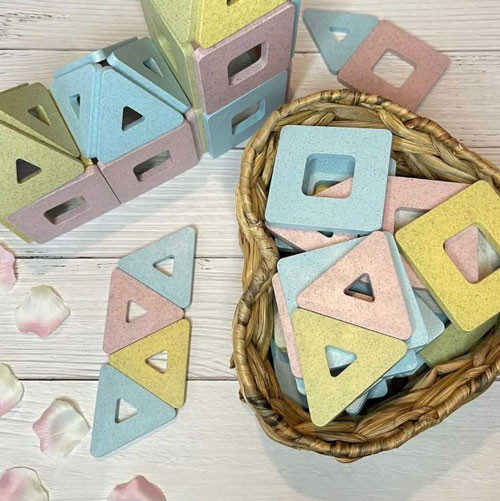 Construction Play
KinderMag is brilliant for enhancing your construction play. Designed to ensure that opposite colours attract, little ones can build all sorts of wonderful structures while learning about the purposes of magnetism as part of their understanding of the world. What we love most about KinderMag is the ease with which little ones can build. Nothing quite upsets a toddler like a giant construction being knocked down, and with KinderMag, this is far less likely to happen! Equally, little ones can build much larger structures using KinderMag, as the magnets add that little extra bit of 'glue' to keep things together. This combines physical development skills as well as supporting confidence building under personal, social and emotional development.
Colour Matching & Sorting
Designed in four beautiful, neutral tones, KinderMag suits simple colour matching activities really well. Encourage little ones to make four piles and separate pink, blue, green and yellow, counting each items into small groups for added numeracy skills! This links well with the 'characteristics of effective learning' in Development Matters (2021) under critical thinking, where an example given is to "sort materials… for example, at tidy-up time, children know how to put different construction materials in separate baskets".
Small World Play
Small world play is a wonderful way to evoke that expressive art/imaginative play side of the EYFS we all know and love, and KinderMag make a wonderful addition to that! Use KinderMag to create all sorts of structures for little wooden folk or wooden animals to play in, build boats, rockets, and more! In terms of the EYFS curriculum, this covers both Physical Development (through gross and fine motor practice) and early Literacy skills for retelling simple stories or experiences.
Repeating Patterns
KinderMag comes in two simple shapes - triangles and squares. Combine this with four different colours, and you get great potential for using the resource for repeating patterns play. Leave out examples for little ones to repeat, or simply encourage them to create two or three forms patterns. As a fundamental part of the EYFS Numeracy curriculum, this is a real winner of an activity.
Copying Shapes From Examples
A brilliant pre-writing/reading activity, KinderMag make a great medium for copying simple shapes and pictures. Each set comes with a set of examples, or you might like to photograph your own to share with your cohort. Can little ones make a rocket? A giant triangle? A crocodile? The list is endless!
We hope that these ideas have sparked your imagination for all the wonderful ways you can make use of KinderMag in your home or classroom. We can't wait to see what you do - feel free to tag us in any images on social media!